Infant Daycare Program
6 Weeks - 12 Months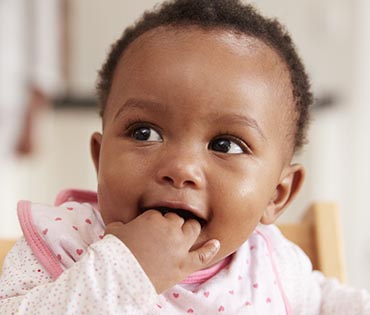 Our infant program at Big Hugs is designed to provide a safe and nurturing learning environment where we take your child's development to a higher level. We understand that infants are determined to understand how the world works. Through our curriculum, Big Hugs Staff provides "tools" so that the children learn at their highest potential.
The Infant program at Big Hugs Childcare provides a safe and nurturing, home-like environment, allowing infants the security and confidence to try new things. Our teachers are caring to each child and treat them as one of their own. Our desire is to promote feelings of belonging and the loving care which help infants to grow and develop to their full potential. The Creative Curriculum that we use provides a variety of different activities to create a perfect lesson plan for your child. In our infant classrooms, all of our toys and equipment are developmentally appropriate and help develop the skills needed to grow healthy and strong. Because every baby has different needs, the daily schedule is based around each child. We encourage your participation in creating your child's schedule at daycare. Also, Big Hugs provides a comfortable place for mothers to breastfeed their children if they choose to do so.
Big Hugs also provides online daily communication to parents that describes their child's eating, sleeping, diapering and developmental activities throughout the day. We also love to take pictures of the children to share with you!
Please bring the following with your child on their first day:
Extra clothes (2-3 outfits)
Diapers
4 packs of wipes for the month
Crib sheets/sleeping bag
3/4 already made bottles for infants
3 already filled sippy cups for toddlers (water, milk, juice, etc.)
Breakfast if eating before 9:00 A.M.
Lunch
2 snacks
Sunscreen/bug spray if weather permitted
PLEASE MAKE SURE EVERYTHING IS LABLED WITH YOUR CHILD'S NAME!
What To Bring
Curriculum
During circle time, children participate in playing musical instruments, singing, telling stories, and playing games. Our curriculum includes attendance, weather, calendar, pledge of allegiance, colors, shapes, letters, numbers, science, art, multiple themes, and special events. The curriculum is designed to meet the educational, emotional, and physical needs of all children on their level. We also strive to challenge our children through our curriculum. If you wish to discuss the curriculum, please let us know and we will set up an appointment to discuss it.